blog
CEO Blog Nation Giveaway: $350 Logo Design From DesignCrowd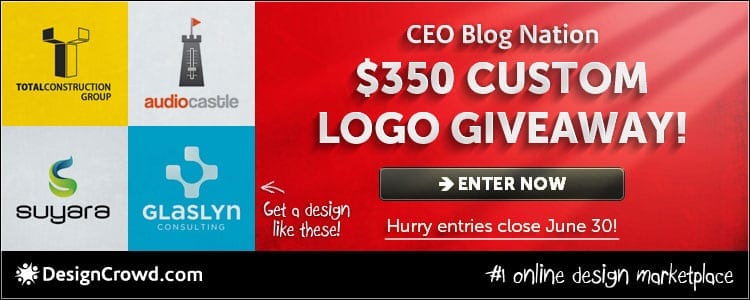 CEO Blog Nation partners with DesignCrowd for logo giveaway
For any entrepreneur, branding your company early gives you a major advantage. It allows potential customers to remember who you are and lets you stand out in the crowd. One of the most important parts of branding your business is coming up with a powerful logo. But for an entrepreneur, getting a logo designed can empty pockets which weren't deep in the first place.
For this reason, CEO Blog Nation is collaborating with DesignCrowd to launch a logo contest worth $350, courtesy of DesignCrowd. This means that if you win this contest, you are getting your logo designed by a crowd of over 120,000 talented designers at DesignCrowd for free.
You'll receive logo design submissions like these within hours of posting:
On DesignCrowd you get more creative bang for your buck!
Please describe in 25 words or less why you need a new logo
Where we'd see it.
That's it! The winner will have his or her logo specifications listed and promoted on DesignCrowd. Expect more than 100 logo designs to pour in and after you've found your winning design, the $350 will be awarded to the winning entries, while you get your logo made by professionals for free!
We're looking for one winner. Contest ends on the 30th of June, 2013. Best of luck!
About Design Crowd
DesignCrowd is a virtual marketplace where you can find logo, print, graphic and website design services from freelance graphic designers and design studios from all over the world. With DesignCrowd, you have 124,068 designers from all over the world ready and waiting to help you get the very best design. With the use of crowdsourcing, you post a project on DesignCrowd and wait as the design ideas pour in.
State your requirements, your budget and deadline then release it to the crowd. Take your pick from the submissions and post feedback or request for changes from the designers themselves. For more info, check out DesignCrowdTV or you can use http://www.designcrowd.com/how-it-works
And here are
samples
of some of the talent you will be tapping into.